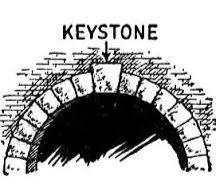 In his helpful book, The Power of Habit, Charles Duhigg introduces the concept of keystone habits.
"Some habits have the power to start a chain reaction as they move through an organization. Some habits, in other words, matter more than others. Keystone habits say that success doesn't depend on getting every single thing right, but instead relies on identifying a few key priorities and fashioning them into powerful levers." (Random House, 2012, pgs. 100-101)
A keystone is the wedge-shaped stone piece at the apex of a masonry vault or arch which is the final piece placed during construction. It locks all the stones into position, allowing the arch to bear weight. Although a masonry arch or vault cannot be self-supporting until the keystone is placed, the keystone experiences the least stress of any of the stones due to its position at the apex.
According to Duhigg, strategic keystone habits can serve the same important function in our personal lives and in organizations – they hold together other critical elements. They may be simple but they are important and influential. One or a few keystone habits can make the difference between success and failure in our lives and organizations.  Continue reading "Develop keystone habits"