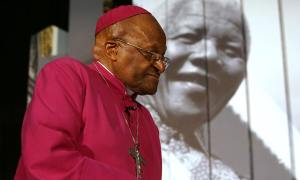 Never underestimate the significance of planned and unplanned acts of kindness.
The African bishop, Desmond Tutu, was once asked why he became an Anglican rather than joining some other denomination. He replied that in the days of apartheid, when a black person and a white person met while walking on a footpath, the black person was expected to step into the gutter to allow the white person to pass and then nod his head as a gesture of respect.
"One day," Tutu said, "when I was just a little boy, my mother and I were walking down the street when a tall, white man, dressed in a black suit, came toward us. Before my mother and I could step off the sidewalk, as was expected of us, this man stepped off the sidewalk and, as my mother and I passed, tipped his hat in a gesture of respect to her! I was more than surprised at what had happened, and I asked my mother, 'Why did that white man do that?' My mother explained, 'He's an Anglican priest. He's a man of God, that's why he did it.' When she told me that he was an Anglican priest, I decided there and then that I wanted to be an Anglican priest too. And what is more, I wanted to be a man of God."
Desmond Tutu was one of the key contributors to the abolishment of apartheid in South Africa.