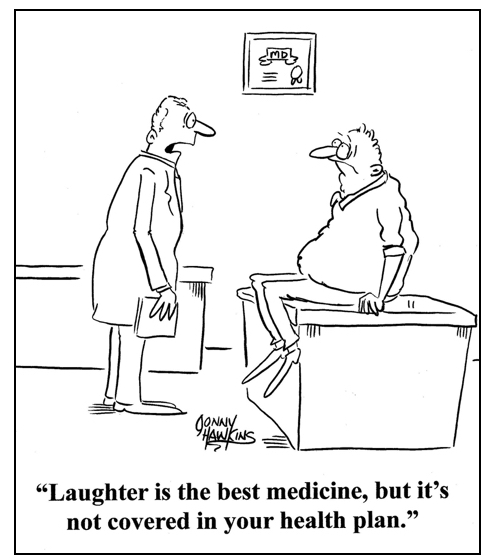 A wife says to her husband, "I've lost five pounds." He replies, "Oh, you finally got all your makeup off?"
A wife sees her husband standing on the bathroom scales, sucking in his stomach.
She says, "That won't help."
He replies, "Sure it will; otherwise I can't read the numbers."
Did you hear about the agnostic that was dyslexic? He didn't believe there was such a thing as a dog.
Admit it. You feel better.
Not yet?
Neil Armstrong was the first man on the moon. Neil A. spelled backwards is Alien. Anyone else freaked out right now?!?!
When you really want to slap someone, do it and say, "Mosquito!"
Now do you feel better?
According to healthguide.org, laughter has many benefits
Physical Health Benefits
• Boosts immunity
• Lowers stress hormones
• Decreases pain
• Relaxes your muscles
• Prevents heart disease
Mental Health Benefits
• Adds joy and zest to life
• Eases anxiety and fear
• Relieves stress
• Improves mood
• Enhances resilience
Social Benefits
• Strengthens relationships
• Attracts others to us
• Enhances teamwork
• Helps defuse conflict
• Promotes group bonding
Tell jokes for your own good and to benefit others.
Subscribe to ajokeaday.com and you'll have plenty of material.
[reminder]What are your thoughts about this essay?[/reminder]