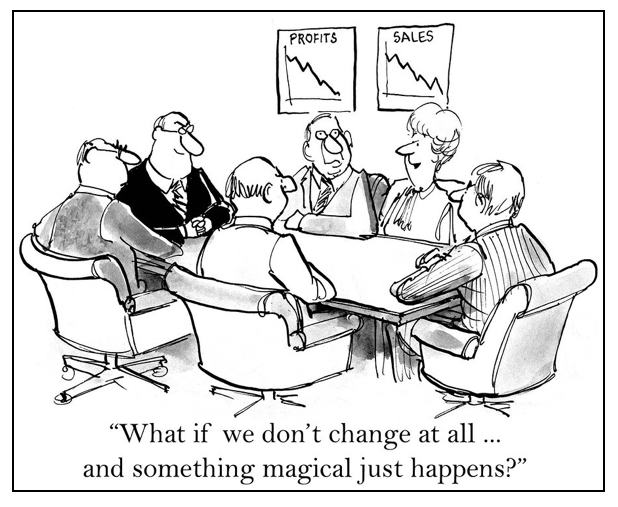 When in a position of leadership, lead.
My impatience peaks when I'm at a stoplight and there are several cars in front of me and the light turns green and the person at the front of the line doesn't move. Arghhh… I usually honk.
I start an imaginary conversation with this person: "Ma'am, sir, do you not realize that because you are at the front of the line, no one can move until you move? Therefore you must be doubly attentive. You're wasting everyone's time by not acting responsibly and quickly. Move it…"
My contrived conversation is therapeutic; I feel better after venting my frustration, if only to myself. But this reoccurring scenario also reminds me of a basic tenant of leadership: when in a position of leadership—lead.
Leaders, your team and organization are waiting for you to act. You're at the front of the line. They won't move until you do. If you're passive, they will be, too.
When do leaders move and where do they go? Leaders move because of and toward, vision.
The sine qua non of leadership is having fresh vision. Vision is a picture of the future that is better than the present that produces passion. If you're in a position of leadership and you don't have credible vision you may be managing but you're not leading. Good leaders are obsessed with developing good vision because that's what "turns the light green" and dictates where you "drive."
Leaders also take initiative; they have an agenda; they want to get from point A to point B; they are dissatisfied with the status quo.
Vision + initiative = progress.
Warren Bennis said, "Action without vision is stumbling in the dark and vision without action is poverty-stricken poetry." Leaders need both vision (where we are going) and initiative (let's start moving in that direction).
The analogy I've created is not exact, but it will work. The next time you're stopped at a streetlight and the light turns green and the person in front doesn't move, let it be a reminder of the fact that leaders must lead.
When you're at the front of the line and the light turns green—go.
When you're in a position of leadership—lead.
Question: What are your thoughts about this essay? You can leave a comment by clicking here.
Only 5 openings remain for the Lead Well 2-day workshop – September 21-22, 2016 in the DFW metroplex. Two intense days of life- and career-enhancing training. More information click
here
.
Click here to open or save the full article as a .pdf