For the past 11 years I've led groups of friends on annual trips. We've travelled to Paris, London, Rome, Spain, Italy, Portugal, Turkey, western Europe, the Mediterranean, Estonia, Sweden, Finland, Norway, Amsterdam, Russia, Peru, Greek Isles, and North Africa. We've never had a malfunction or bad experience, just memorable, life-enhancing moments.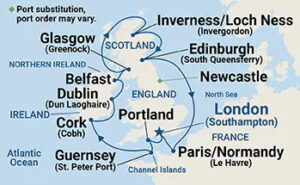 I'm happy to announce the Travel with Friends trip for 2023 – 16 day trip to the British Isles.
Aboard the beautiful 5-star Regal Princess ship, we'll circumnavigate the British Isles, visiting the highlights of England, Ireland, and Scotland.
Have you ever longed to see:
Stonehenge – the prehistoric monument on Salisbury Plain in Wiltshire, England
Beaches of Normandy – where the D-Day invasion began
Paris – Eiffel Tower, Louvre Museum, Notre Dame Cathedral
Belfast, Ireland – Giant's Causeway, Belfast Highlands
Cork, Ireland – Blarney Castle, Waterford Crystal
Glasgow, Scotland – Inveraray Castle and Scottish Highlands
London – Westminster Abbey, St. Paul's Cathedral, British Museum, National Gallery
Invergorden, Scotland – is there really a Loc Ness monster?
Newcastle, England – Bamburg Castle, Hadrian's Wall
The trip, limited to 40 guests, will be life-enhancing.
Here's the brochure with details.
If you want more information, I'm hosting two information meetings on Zoom January 21 &28 from 7:00-8:00pm .  If you're interested in participating contact me at [email protected] . Or email me with any questions you have.