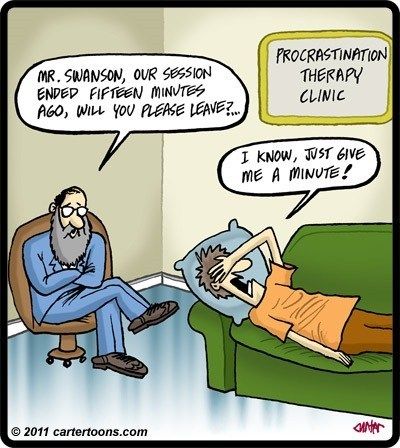 Several months ago, I explained to my eight-year-old grandson, Benjamin, the benefits of doing things sooner rather than later. It's a simple thought: "Most tasks must be done sooner or later; it's best to do them sooner." He listened carefully and the concept found purchase in his mind.
He immediately applied the principle by doing his homework. Prior to our talk, we had to hound him to get his homework done. Now he takes the initiative. Instead of playing Minecraft on my phone during the hour drive to the lake house, he works on his homework. This is a miracle second only to the resurrection of Lazarus. And, if the persuasion holds and becomes a permanent habit, this lesson will change his life for the better.
The principle can be said another way: Don't procrastinate. 
We are most tempted to procrastinate when faced with difficult, tedious, or unpleasant tasks. But instead of delaying the inevitable, be aggressive and get it done. Mark Twain said, "If your job is to eat a frog, it's best to do it first thing in the morning."
Examples abound: filing your annual tax return, minor repairs to your home or car, writing a thank-you note, turning in a report at work, cleaning your bathroom, having a difficult conversation, planning an event that will happen a year from now.
If you're able to make this principle part of your modus operandi, it actually becomes fun. Getting tasks done quickly can become a game you play. Reward yourself for got-it-done-sooner accomplishments. I just finished this post so I'm going to reward myself by taking Buddy for a walk.