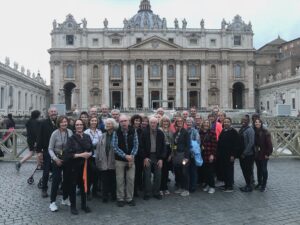 Next Thursday, Mary and I and 48 friends leave on the 12th annual Travel with Friends trip. We'll visit incredible sights in England, Ireland, Northern Ireland, Scotland, Belgium, and France.
In the past, we've traveled to  Europe, Peru, North Africa, Israel, Baltics, Greek Isles, and other destinations. These trips have been life-enhancing and life-changing.
These annual trips are open to everyone. In October I'll announce the 2024 trip.
If you'd like to keep up with our experiences on this trip,  join our Facebook page. Every day we'll post pictures and commentary about our adventure.
To sign up, click here – Travel With Friends – McMinn