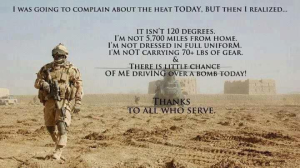 In the world of athletics, the phrase playing hurt is used to describe an athlete who continues to play even though he or she is injured. It also describes a necessary life skill that we all need to develop—sometimes we must continue to function, despite pain and adversity.
Here are some interesting thoughts from an article by Peggy Noonan that appeared in the Wall Street Journal, January 11, 2002.
"There's a small but telling scene in Ridley Scott's 'Black Hawk Down' that contains some dialogue that reverberates, at least for me. In the spirit of Samuel Johnson, who said man needs more often to be reminded than instructed, I offer it to all, including myself, who might benefit from its message.
"The movie, as you know, is about the Battle of the Bakara Market in Mogadishu, Somalia, in October 1993. In the scene, the actor Tom Sizemore, playing your basic tough-guy U.S. Army Ranger colonel, is in charge of a small convoy of humvees trying to make its way back to base under heavy gun and rocket fire. The colonel stops the convoy, takes in some wounded, tears a dead driver out of a driver's seat, and barks at a bleeding sergeant who's standing in shock nearby:
Colonel: Get into that truck and drive.
Sergeant: But I'm shot, Colonel.
Colonel: Everybody's shot, get in and drive."
Everybody's been shot. Everyone's been wounded. All of us have suffered a deep bruise. It's one thing we all have in common.
But don't think your wound gives you permission to sit on the sidelines; it doesn't exempt you from fully engaging in life and being responsible for outcomes.
Don't be defined by your wound and don't let it put you on the bench. When life demands it, play hurt.
I saw this steely resolve displayed in church one Sunday morning. Moments before the worship service started, my pastor received some tragic news about a member of his family. I watched with amazement as he carried out his duties (even preaching a sermon) with grace and dignity, never letting on to the emotional turmoil that was going on inside.
There will be times in your life when you must play hurt. You'll need to clamp down on physical or emotional discomfort and continue to perform. That's not denial; it's courage, control, and fortitude in action.
[reminder]What are your thoughts about this topic?[/reminder]
Summary
What? – Often, we must continue to function despite hardships.
So what? – Develop the emotional fortitude to play hurt.
Now what? –