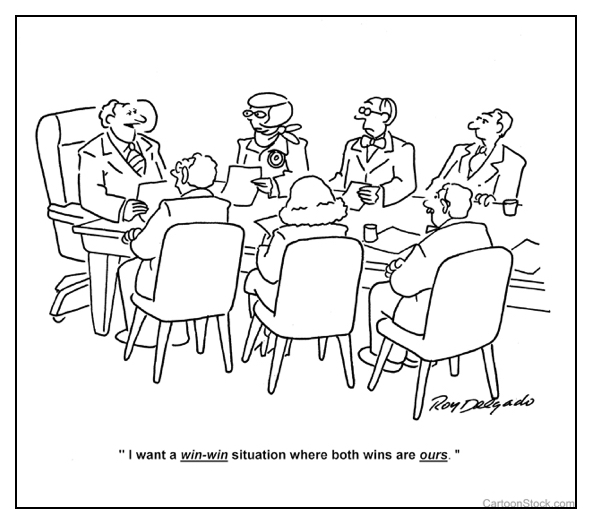 I enjoy cruising because it's a win-win situation; it works for me and it works for the cruise line. I recently paid only $1,350 for a luxurious, 16-day transatlantic/European cruise (Miami to Rome) which included all meals, lodging, transportation, and entertainment. One evening, as I was munching on a filet mignon, I wondered, "How do they make this work, financially?" I don't know, but obviously they do, or they wouldn't be in business.
Both I and the cruise line benefited from a win-win scenario.
Often, we're trapped in a zero-sum situation—in order for someone to "win," someone else must "lose." But there are also positive-sum situations in which everyone "wins." Let's pursue those.
How and why do we often succumb to a win-lose mentality? Perhaps through our exposure to athletics, where there's usually an emphasis on winning or losing. Or perhaps we've been taught that to be successful in business, I must win and the competition must fail.
But with proper thought and structure, most experiences can be designed to be mutually beneficial.
Employee/employer relationships should be a win-win relationship.
Products and services should seem right and fair to both the seller and the buyer.
Close relationships should be balanced and mutually advantageous.
When conflicts do arise, the conflict resolution process can aim to accommodate all participants.
Effective networking is predicated upon being mutual beneficial.
Almost all productive social behavior is based on win-win scenarios.
I'll close with a cute story about a bet between a boyfriend and girlfriend regarding a Brazil vs. Argentina football match.
Rules:
1. If Brazil wins, the boy will kiss the girl.
2. If Brazil loses, the girl will kiss the boy.
Now that's a win-win situation.
[reminder]What are your thoughts about this essay?[/reminder]