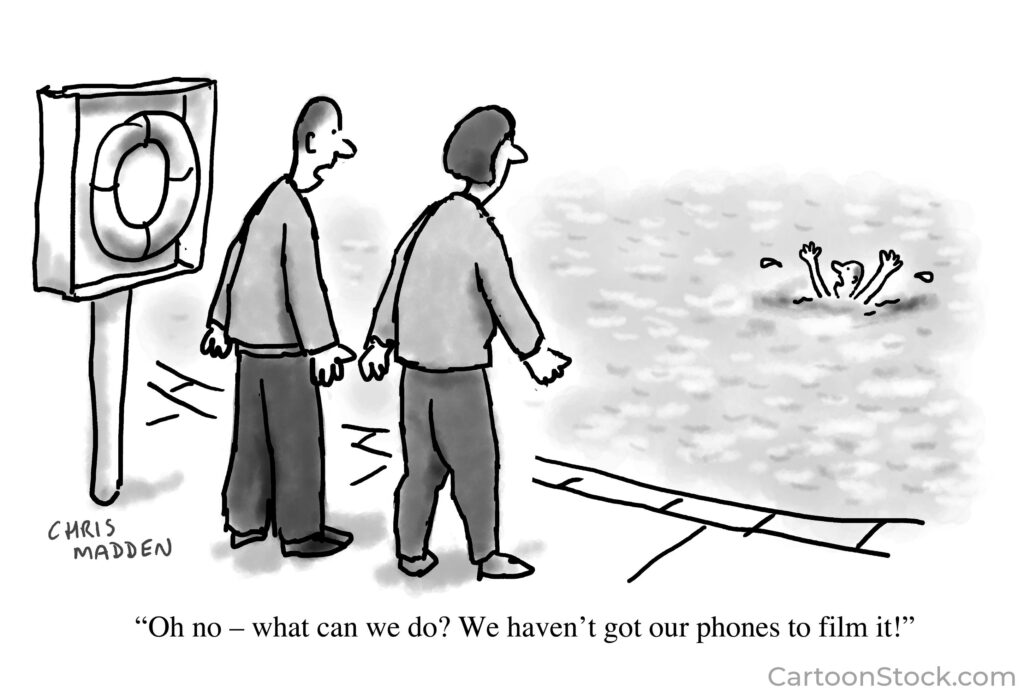 When we know others are present, we feel less responsible to act, a phenomenon known as diffusion of responsibility. (Kida p221)
In 1964, a woman named Kitty Genovese was assaulted, raped, and murdered outside her New York City apartment. First, she was stabbed twice, and although she screamed for help, no one came to her rescue, even though 38 witnessed the tragedy. The bystanders didn't even call the police.
Following this shocking event, researchers wanted to understand why no one responded. After much research, two social psychologists, John Darley and Bibb Latané, published insight into a socio-psychological phenomenon called diffusion of responsibility (also called the bystander effect). 
The bystander effect is the phenomenon in which the presence of people (i.e., bystanders) influences an individual's likelihood of helping a person in an emergency situation. Specifically, Darley and Latané hypothesized that as the number of people who are present in an emergency situation increases, the less likely it is that any single individual will help someone in need. The findings suggest that in the case of an emergency, when people believe that there are other people around, they are less likely or slower to help a victim because they believe someone else will take responsibility.
For the most part, when we are by ourselves, individuals are eager to help others and look out for one another. But when we get in a group, we're reluctant to take action. How is it that kind and loving people can see a problem and not respond?
One cause for hesitation may be people's lack of confidence or competence. Or, they may think others in the group would be better at helping. Another cause is thinking surely, someone else will act. Or, when other bystanders do nothing, people may think there's no real need to help out.
In May 2020 I was guilty of diffusion of responsibility. I was shopping at Walgreens when a man fell to the floor having a seizure. About five customers, including me, did nothing but stare at him for about a minute. It was at the onset of the Covid pandemic and I remember wondering if this was a violent reaction to the virus, in which case I should not intervene without proper protective gear. I did call 911, but in retrospect I wish I had offered physical help and assurance. 
Have you ever fallen prey to the diffusion of responsibility? 
A more subtle expression of this disorder is the thought—When everyone is responsible, no one is responsible. We're often passive or slow to respond to a need because it's not our specific job—it's everyone's job. 
In the future I'm going to be more responsive in emergency situations.